Muziek
Op deze pagina zullen wij leuke, mooie en/of aansprekende muziek laten horen.
Dat kan van eigen zanger en koortjes zijn, maar ook van anderen.
Christ be beside me
Een prachtige song, gezongen door James Kilbane, een Iers christelijk land-, gospel- en countryzanger.Hier met een prachtig lied over Christus.
Klik op het plaatje en luister.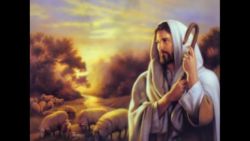 Christ be beside me, Christ be before me,
Christ be behind me, King of my heart.
Christ be within me, Christ be below me,
Christ be above me, never to part.




Christ on my right hand, Christ on my left hand, Christ be in all hearts thinking about me,
Christ all around me, shield in the strife. Christ be on all tongues telling of me.
Christ in my sleeping, Christ in my sitting, Christ be the vision in eyes that see me,
Christ in my rising, light of my heart. In ears that hear me Christ ever be.
Jongerenkoortje

In 2018 was er een optreden van een jongerenkoortje. Kijk eens.